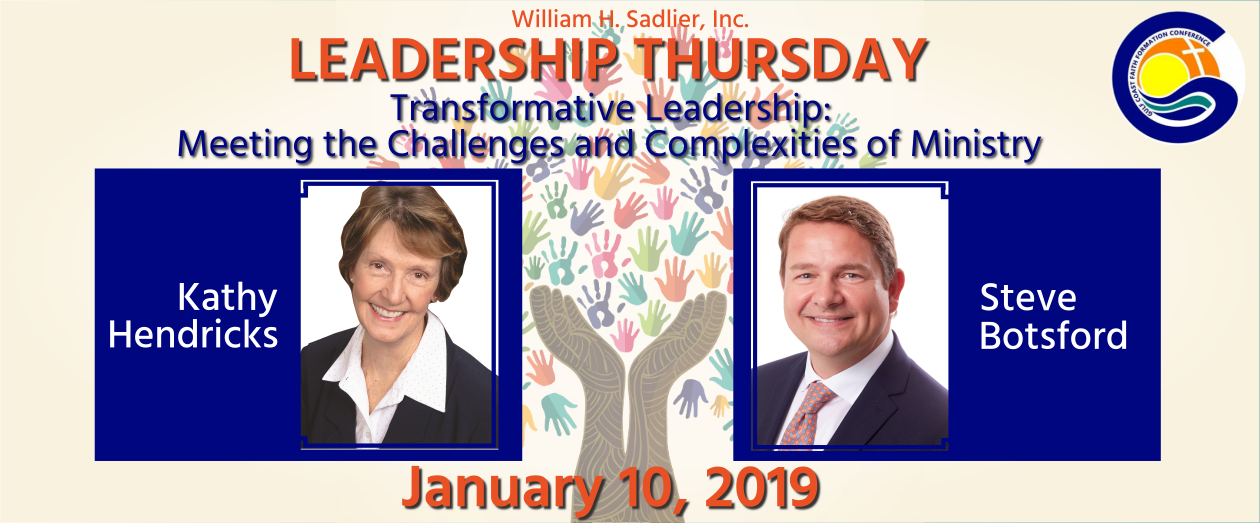 The complex demands on diocesan, parish and Catholic school leaders requires flexible and innovative ways to serve parishioners, students and families.  This begins with transformation at a personal level and radiates outward through the development of relationships and processes that invite others to a similar transformation.  This special day for ministerial leaders will examine three stages of spiritual transformation – awakening, purification, and generativity – essential to opening ourselves further to God's grace and guidance.  Through lively interaction, personal reflection, and shared experiences, leaders will leave with a better appreciation for their own call to transformation as well as practical ideas to bring to their ministry.
Our presenters, Kathy Hendricks and Steve Botsford, will collaborate in offering an interactive and dynamic afternoon that will include personal spirituality and transformation as well as application to their ministries.
Kathy Hendricks is the National Catechetical Consultant for William H. Sadlier and a contributing writer for their programs. Kathy offers presentations across the country on catechesis, spirituality, and family and is the author of several books, including Seeking Spiritual Balance in Off-Kilter Times. Kathy holds a Master's degree in Adult Christian Community Development and certification as a spiritual director.
Steve Botsford is a National Religion Consultant for Sadlier Publishing. He is a convert to the Catholic faith and earned a Master of Religious Education degree from Loyola University, New Orleans. He also holds a Church Management certificate from Villanova University. Steve is a master catechist in the Archdiocese of Atlanta and has served over 10 years in parish ministry as a youth minister and DRE.
Lunch is included as part of the schedule.
Thank you to William H. Sadlier, Inc.  for their sponsorship of Leadership Thursday for the 2019 Gulf Coast Faith Formation Conference.